FAQs - Često postavljana pitanja
O našim uslugama
Kako započeti s dizajniranjem?
---
Prilično lako - u pet jednostavnih koraka! 1. Odaberite jednu od naših usluga online dizajna interijera: Go Home Single ili Go home Full 2. Rješite naš online kviz i otkrijmo koji Vam stil najviše odgovara. 3. Ispunit ćete naš formular za klijente ( koji ćete dobiti mailom nakon odabrane usluge ), te nam odgovoriti na dodatna pitanja o Vašem stilu i o prostoru kojeg ćemo uređivati. 4. Poslat ćemo Vam naša rješenja koja uključuju - tlocrtni raspored, 3D vizualizacije i popis predloženog namještaja, dekoracija i rasvjete. 5. S našim prijedlozima i savjetima, namjestite i uredite svoj prostor i uživajte u njemu!
---
Imate li svoj tim za izvedbene radove?
---
GOHome interijeri bazira se isključivo na pružanju online usluga dizajniranja interijera. I dok za Vas možemo izraditi idejno rješenje za uređenje Vašeg interijera, nažalost, izvedbene projekte ne nadgledamo niti surađujemo s majstorima koji izvode radove.
---
Utječe li veličina prostora na cijenu izrade projekta?
---
Za Vas smo pripremili 3 paketa online dizajna interijera, kako biste mogli izabrati onu koja najbolje odgovara Vama, te tako platilli samo ono što trebate. Usluga online konzultacija idealna je ukoliko ne trebate cjelovit projekt, a ipak želite dobiti savjet i ideju dizajnera. Veličina prostora ne određuje cijenu uslugem, te možete postaviti neograničen broj pitanja! Usluga Go Home Single odnosi se na izradu cjelovitog rješenja za jednu prostoriju u Vašem domu, a sama kvadratura prostorije ne utječe na cijenu! Usluga Go Home Full osmišljena je tako da uključuje dizajniranje cijelog stana prosječne veličine i kvadrature ( 2-3 spavaće sobe, dnevni prostor, kuhinja i kupaonica ). Sama kvadratura ne utječe na cijenu, no ukoliko trebate projekt uređenja interijera za veći stan ili kuću, kontaktirajte nas, a mi ćemo Vam izraditi ponudu sukladno Vašim potrebama.
---
Mogu li naručiti projekt ukoliko živim izvan Hrvatske?
---
Apsolutno! Jedna od prednosti online dizajna interijera je upravo u tome što međusobna udaljenost ne utječe na izvedbu i kvalitetu same usluge. Sve što trebate je uređaj s kamerom i pristup internetu!
---
---
How much does a Elysium Oak floor Cost ?
---
Though we have a standard per square meter price for all of our floors, there are several variables that need to be considered. That is why we recommend speaking directly to one of our flooring specialists who will be able to give a price estimate for your specific requirements.
---
Does Better Floors Keep Wooden Floors in stock ?
---
Yes, we tend to keep 3,500m2 upto 5,800m2 of unfinished engineered Oak flooring in stock in our Dubai Industrial City Production Centre, where we prepare all 55 Rubio Monocoat colours and finishes and 16 Ciranova colours and finishes.
---
When doing a renovation, At which point does the wooden flooring installation start ?
---
Wooden flooring installation commences once all other works, including painting, have been completed. The floor is the last thing to come in, right before furniture and decor.
---
Which countries do you service from your Dubai Industrial City Manufacturing Plant ?
---
We are the only authorised European Oak manufacturer in the G.C.C. region, we service and export our products to the following countries: United Arab Emirates, Sultanate of Oman, Kingdom of Saudi Arabia, Kuwait, Bahrain, India, Egypt, Jordan, Turkey & Cyprus
---
How long does installation of wooden flooring take?
---
Installation time will depend on a few factors such as room shape, furniture, installation method and the amount of accessories required. (For glue down installation), a team of two installers is able to lay circa 30-40 sqm per day (in an empty room with right angles).
---
Can I lay wooden flooring directly on top of an existing ceramic tilie or marble flooring?
---
Yes. Our floors are typically glued down on top of existing flooring. The boards are locked together via tongue & groove system, this method adds additional stability and restricts movement of the wooden floor board.
---
I have an existing ceramic tile skirting, do I need to remove it?
---
Though we generally recommend removing the tile skirting and installing a new one to create a more seamless finish, we are able to provide you with a customized skirting which is fitted nicely on top of the existing tile skirting, covering it. Feel free to visit our showroom and/or factory where we can show you samples.
---
Will the wooden floor fit under my exisiting doors & frames?
---
Yes, however we may need to shave the bottom of the doors/frames slightly.
---
Are your wooden floors made from natural wood?
---
Yes, The Elysium Oak LTD brand wooden floors are made from natural FSC certified European White Oak wood that has all been sustainably sourced from verified European foresters.
---
Are your floors suitable for Middle East harsh climate?
---
Yes. Elysium Oak wooden floors have an innovative engineered construction that ensures that the floor remains intact despite seasonal fluctuations of humidity. Since wood is a natural material, that is affected by climatic changes, a wood floor moves with the seasons, i.e. it swells in high humidity and shrinks in low humidity. Elysium Oak wooden floors multi-layered construction minimizes this movement.
---
Why are your wood floors "healthy"?
---
Elysium Oak wooden floors are the perfect choice for your whole family. Our natural wood floors are softer – and thereby safer – than stone flooring such as tile or marble; they don't contain or emit any harmful chemicals, toxins or carcinogens; they are hypoallergenic and easy to keep clean/maintain, and on top of that extremely cosy and the most sustainable choice. After all, with so many harmful environmental pollutants in our everyday lives, it is comforting to know that a Elysium Oak wood floor is completely natural and healthy- enabling you and your children to breathe easy at home everyday,

All Elysium Oak wooden floors are finished with the Belgium brand Ciranova & Rubio Monocoat, which both are 0% VOC or water, Child & Pet friendly, Eco friendly, BREEAM Certification & Food/toy safe
---
Do I need to keep the AC on?
---
We recommend maintaining a normal room temperature between 18°C and 24°C. This is to ensure an indoor climate that protects the floor (as well as your furniture, clothes, ceilings, walls, etc.) from any potential mold and moisture damage.
---
Are your floors waterproof?
---
Elysium Oak engineered wooden floors are water resistant, not waterproof. That is why we do not recommend installing the floors in wet areas, and encourage any spillage to be wiped up as quickly as possible.
---
What can I use to clean my oil finished wooden floors?
---
For daily cleaning, use dry methods, e.g. vacuuming and combine with the use of a Spray Mop (microfiber mop) using Rubio Monocoat or Ciranova Cleaner solution wood soap
---
Can I get this same colour and finsihing in differnt parquet floor designs ?
---
Yes any colour and/or finish seen on our website can be custom manufactured to any plank pattern design such as Herringbone,Chevron, Straight plank or even the Versailes parquet floor panels.

See our video for some more inspiration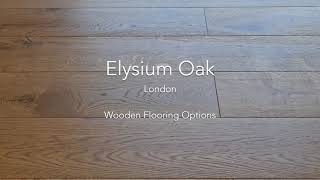 ---
---
Trebaš pomoć oko odabira pravog paketa za sebe?
Nazovi nas!